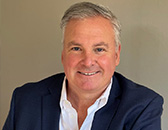 Peter is focused primarily on developing the property casualty business at Meridian. His background and expertise involves implementing P&C solutions for corporations and private clients.
Prior to joining Meridian, Peter spent fifteen years on Wall Street, the majority of which was spent at Ryan Beck, & Co. (since merged with Stifel Nicolaus). During this time he was SVP in the Special Products Group in the equities division of the firm. Peter has also spent many years as a derivatives trader, with an extensive background in precious metals and energy futures.
Peter graduated from Hobart College in 1990 with a degree in economics and four national championships in lacrosse. He puts his lacrosse background to use through his involvement in the Larchmont – Mamaroneck Youth Lacrosse program, where he serves on the board of directors of LMYL and coaches all of his children's teams.
Peter currently serves as President of the Board of Governors at Pelham Country Club.
Peter lives in Larchmont with his wife Claudia and three children – Sarah, Michael and Henry.
CONTACT INFORMATION
Email: [email protected]
Office: 914-738-5678
Direct: 914-250-1157
Fax: 914-355-2451