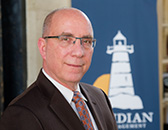 A transplant from Ohio, James made his way to the East Coast in the late 80s and began his employee benefit career in Boston. James believes in looking for new solutions to solve old problems. An innovator, James was an early adopter of partially self-funded health plans in the early 90's which led him to growing a TPA for a national payroll company in 2005. Over the years, James has worked with hundreds of health agencies and thousands of clients on their employee benefit plans, flexible compensation services (HRA, HSA, FSA, HRA), Ben/Admin technology and compliance needs.
James current focus is helping employers reset after the world shifted under Covid and consulting with clients on the Federal Cares Act and determine if they're eligible for Employee Retention Credit.
James graduated from Ohio University with a BA in Marketing and Management. He also holds designations from the American College and ECFC;
RHU – Registered Health Underwriter
REBC – Registered Employee Benefit Consultant
CFC – Certified in Flexible Compensation
James credit's his work ethics on discipline first learned on the Judo mats then his High School wrestling team where he was inducted in the Centerville High School Hall of Fame in 2019.
James real passion is his family, wife, 4 children and two grandchildren. If he's not attending various hockey games or gymnastic events, you can find him on his road bike with his wife Deb trailing the many bike paths throughout Connecticut.
CONTACT INFORMATION
Email: [email protected]
Cell: 860-424-2167
Direct: 917-325-9425
Office: 914-738-5678