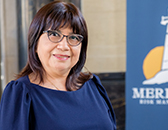 Mercedes Crispin has been in the Insurance Industry for more than 15 years. "Meche", as her friends and co-workers call her, is licensed as a NY Property and Casualty Broker.
She has specific experience working in the Personal Lines sector and is happy to share her experience with clients and co-workers via the day-to-day business at Meridian. Meche enjoys Meridian's core values of relationships based on respect, motivation, teamwork, and inspiration and strives to achieve these in her client service role.
Meche lives in Westchester County, where some of her favorite hobbies are listening to soft music, spending time with her grandkids and cooking Peruvian food for her family. She is bilingual in Spanish and English.
CONTACT INFORMATION
Meche Crispin | Private Client Account Executive
Email: [email protected]
Office: 914-738-5678
Direct: 914-383-0013