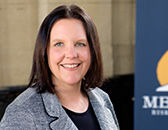 Jill Brideau is our Senior Account Manager, Benefits Division at Meridian Risk Management.
Jill has worked in the insurance brokerage industry for the past 18 years. Jill started her insurance career when she was a Human Resources Consultant. During her HR career she loved the insurance aspect and later went to work on the broker side of the business. Jill loves navigating through claims and most importantly helping employers and employees. She carries a Life, Accident and Health License and has a vast knowledge of all group sizes and account management.
Jill lives in Fairfield, CT with her husband and three sons. They are big Yankee fans and love watching the games together.
CONTACT INFORMATION
Email: [email protected]
Direct: 914-639-2172
Office: 914-738-5678
Fax: 914-355-2451