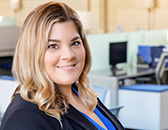 Janet Locascio was first introduced to the world of Insurance as a Part Time Receptionist at an agency while attending college to earn her degree. After graduating from Iona College in 1998 with a Bachelors Degree in Business Administration, she started working as a full time customer service representative in the personal lines sector – During this time, she obtained her NY Property/Casualty Brokers license.
Janet joined Meridian Risk Management in its early existence in February, 2004. She is Manager of the Private Client Group and is responsible for overseeing all client service needs. In addition to Manager, Janet plays another important role in the office as the Director of Personnel.
After 13 years in the Insurance industry, Janet still finds enjoyment in her job on a daily basis as each day she makes it a priority to learn something new and finds that no two days are ever the same. Janet lives nearby in Wykagyl, New Rochelle with her husband, Vito and after making sure all of Meridian's Private Clients are happy, she enjoys spending time with her family, traveling, reading, routing for the NY Yankees and decorating her home.
CONTACT INFORMATION
Email: [email protected]
Office: 914-738-5678
Direct: 914-738-9294
Fax: 914-355-2451