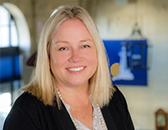 Kristen joined the Meridian team after experiencing a long, successful career focused on the Service Industry.
She initially began as the NY General Manager of a privately held contract guard service company and then moved on to the role of NY Division Manager at Stuart Dean Company.
Stuart Dean Company, a National Restoration and Maintenance Company, has grown to be the largest premier company in the industry providing services to the Commercial Property Management Industry/Large National Retail Brands/Historic Houses of Worship/National GC Companies, and more.
Kristen held the NY Division Manager position for over 18 years which included the responsibilities of direct management of the P/L of the NY Division, driving revenue, overseeing all aspects of operation, and managing Union Trade agreements with three different contracts. She successfully motivated and grew the NY Sales Team over the years while balancing the talents of the Operations Team to produce a top tier level of service to many of the most prominent NYC commercial and residential buildings. The NY Division performed multiple divisions of trade including metal, stone, and wood.
Kristen was an active member of BOMA NY (Building Owners and Managers Association of NY) and participated for more than ten years on the Judging Committee for the NYC Pinnacle Awards.
Her management skills, motivating personality, and proven experience with process-focused delivery of premium service fits well with Meridian's culture.
Kristen graduated from Georgetown University. Originally from White Plains, NY in Westchester County, she currently lives in Pelham Manor with her daughter.
Kristen moved to Pelham in 2012 to raise her daughter in a small town with proximity to NYC. She has gained tremendous and valuable friendships, cherishes connections to the Pelham community and considers it to be one of the best decisions to have bought a home in Pelham Manor. In her free time, she enjoys playing USTA tennis and is a long-time member of the NYAC. She plays golf as well as paddle and loves to travel. Kristen enjoys spending time with family/friends both locally in Pelham and East Hampton, NY.
CONTACT INFORMATION
Kristen Rice | COO
Office: 914-738-5678
Direct: 914-430-3527
Cell: 347-386-6456
Fax: 914-355-2451