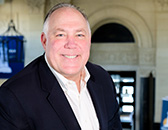 Joe Solimine, Jr., Founder and President of Meridian Risk Management has the insurance business in his blood….really. He followed in the footsteps of his father, Joe Solimine, Sr. who co-founded his own independent insurance agency in 1965 in the Bronx, and later brought Joe Jr. with him to Pelham, New York, beginning in 1972.
Meridian was founded in 2003 and to this day embodies the priorities Joe learned from his father – Knowledge, Integrity, Family, and Community. Just ask Joe, Sr – his office is a few doors down.
The road to Meridian was a colorful and rewarding path for Joe, Jr. He grew up in Pelham (where he still lives to this day). A strong childhood education and natural talent for baseball led him to Fairfield University in Connecticut where he was '89 Athlete of the Year and made All Northeast Region that same year. Graduation in 1989 was not the end of Joe's connection to Fairfield – he is very active with the Alumni Association and is Founder of the Mike Andrews Memorial Scholarship fund.
Post-college life found Joe, Jr. once again stepping in similar footfalls to his dad – this time in professional baseball. Joe was a catcher for the Chicago White Sox organization from 1989-1991. Joe, Sr. played for Pittsburgh – feel free to ask him, he will tell you ALL about it.
Joe, Jr. and the entire Meridian team place a high importance on giving back, especially where it matters most: close to home. Joe supports many local events and organizations, including:
Pelham Youth Football – Coach
Pelham Hockey Association – Board member and Dad
PTA – All Pelham Schools (PMHS graphics helped choose our color scheme…it's the same as theirs!)
The Junior League of Pelham – Major sponsor of yearly fundraiser
Pelham Country Club – Past president and current and future golfer…sort of
Pelham Picture House – Restoration and awareness
Pelham Arts Center
Pelham Education Foundation – Annual Top Level Corporate Sponsor
Pelham Little League – Coach, Annual Parade Sponsor and Dad (we gave back-packs to the teams this year)
Joe met his wife Annie through his Fairfield University roommate , and Joe and Annie have been married since 1996 (she is very patient). Annie went to Middlebury College and was Phi Beta Kappa yet still somehow still agreed to marry Joe (ah the mysteries of love). They have four great children together – Chandler, Tim, Maggie, and Shep. When not making sure Meridian is the best independent insurance agency around, Joe enjoys time with family, pursuing the art of golf, and boating in Maine where they visit Annie's family in Prout's Neck. All are welcome to come tubing – after signing a waiver, of course.
CONTACT INFORMATION
Email: [email protected]
Office: 914-738-5678
Direct: 914-738-9298
Fax: 914-355-2451